Marcos, Maria Lucília; Mateus, Samuel (2015)
Sous le Signe de L'Interruption – Individualisme et volonté d'après une nouvelle de Melville
http://www.revue-alkemie.com/016-alkemie-le-paradoxe.html
Peut-on penser quelques aspects de l'expérience contemporaine à partir de la formule dite par Bartleby de H. Melville I would prefer not to? Qu'advient-il au sujet qui les prononce? Quelles sont les conditions et les pratiques (dé)mobilisées par cet énoncé?
En fait, ce court-circuit sémantique et pragmatique dessine une interruption de la logique de la communication et de la reconnaissance, en affirmant la contingence et la valeur de l'impuissance du désœuvrement.
Mais, contre l'interprétation commune d'un effacement de soi et en convoquant les concepts d'autarkeia e de prohairesis, nous prétendons problématiser la dimension auto-affirmative de cette conduite, envisageant un modèle d'individualisme ascétique.
Au contraire de l'individualisme moderne qui fait éclater la volonté de façon centrifuge, cette préférence négative met en place une dynamique centripète. L'individu replié sur lui-même s'abandonne à sa propre pensée et méprise la matérialité du monde ; enfin, il se retire dans le recueillement. Il s'agit là d'un individualisme qui exalte la valeur de l'interruption et de l'autarcie tout en étant « prohairétique » ; un geste qui suspend et qui, à première vue, se rend lui-même inopérant, car il choisit la potentialité à la réalisation immédiate.
Mots-clé
: Bartleby ; désoeuvrement ; impuissance ; individualisme ; ascèse ; autarkeia ; prohairesis ; Philosophie et Littérature ;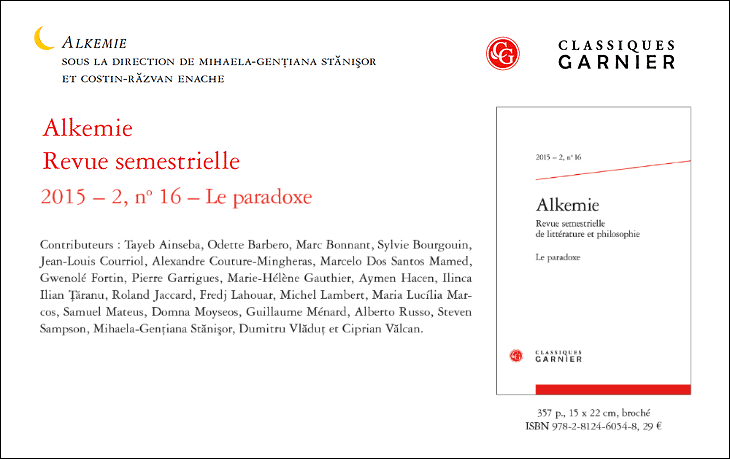 Can we think some aspects of contemporary experience from the formula Bartleby by Melville H. I would prefer not to? What happens on that saying? What are the conditions and practices (de) mobilized by this statement?
In fact, the semantic and pragmatic short-circuits draw an interruption of the logic of communication and recognition, acknowledging the value of contingency and impotence.
Departing from the interpretation that sees in Bartleby a self-effacement we seek, through the concepts of autarkeia and prohairesis, to problematize the self-affirmative dimension of the formula, and to suggest a model ascetic individualism.
In contrast to modern desire that centrifugally shatters individualism, this negative preference implements a centripetal dynamic. The individual withdrawn into himself is abandoned to his own thoughts despising the material world. This may be an individualism that exalts the value of the interruption and autarky while being "prohairétique": a gesture that suspends and which, at first sight, makes itself irrelevant, because it chooses the potency instead of immediate enactment.
Keywords:
Bartleby; idleness; impotence; individualism; asceticism; autarkeia; prohairesis; Philosophy and Literature;